A Perfect Rivalry: Federer v. Nadal
You don't have to be a tennis fan to appreciate how beautiful it is that Roger Federer and Rafael Nadal are facing each other in a Grand Slam final in 2017.
I honestly can't wrap my head around it. Sure, I'm a huge tennis fan and Federer has held my heart for 15 years. But this is bigger than that. Something about this rivalry is inspiring even beyond the realm of sports.
Take Federer first. The greatest player of all time. He's won 17 grand slam championships. He held the No. 1 ranking for 302 straight weeks. During 2004 – 2006, he won nearly 70% of all the tournaments he played in. For his career, he's won about 25% of all tournaments. On top of all of that, he plays with more grace and finesse than most sports have even seen.
At 35 years old, he's still adapting his game to new opponents and his aging body. I was blown away when in 2014 he decided to change the size of his racket for the first time in his entire career to improve his game. At the 2015 U.S. Open, I was in the stands when Federer jumped to the net on his opponent's second serve, a move called SABR and one that he began using at age 34. It's just inspiring to see how dedicated he is to being relevant and competitive.
But thanks to injuries, last year he missed more than half the season and sat out two of four grand slams—he hadn't missed at grand slam in 17 years before then. You'd be naïve if you didn't think Federer's career was nearing the end. I had no idea what kind of player Rog would be when he started this season. My heart told me he'd be competitive, but my brain was like…come on dude. He started the year ranked at the lowest seed since 2001, and now he's in the final of a grand slam championship for the 28th time in his career.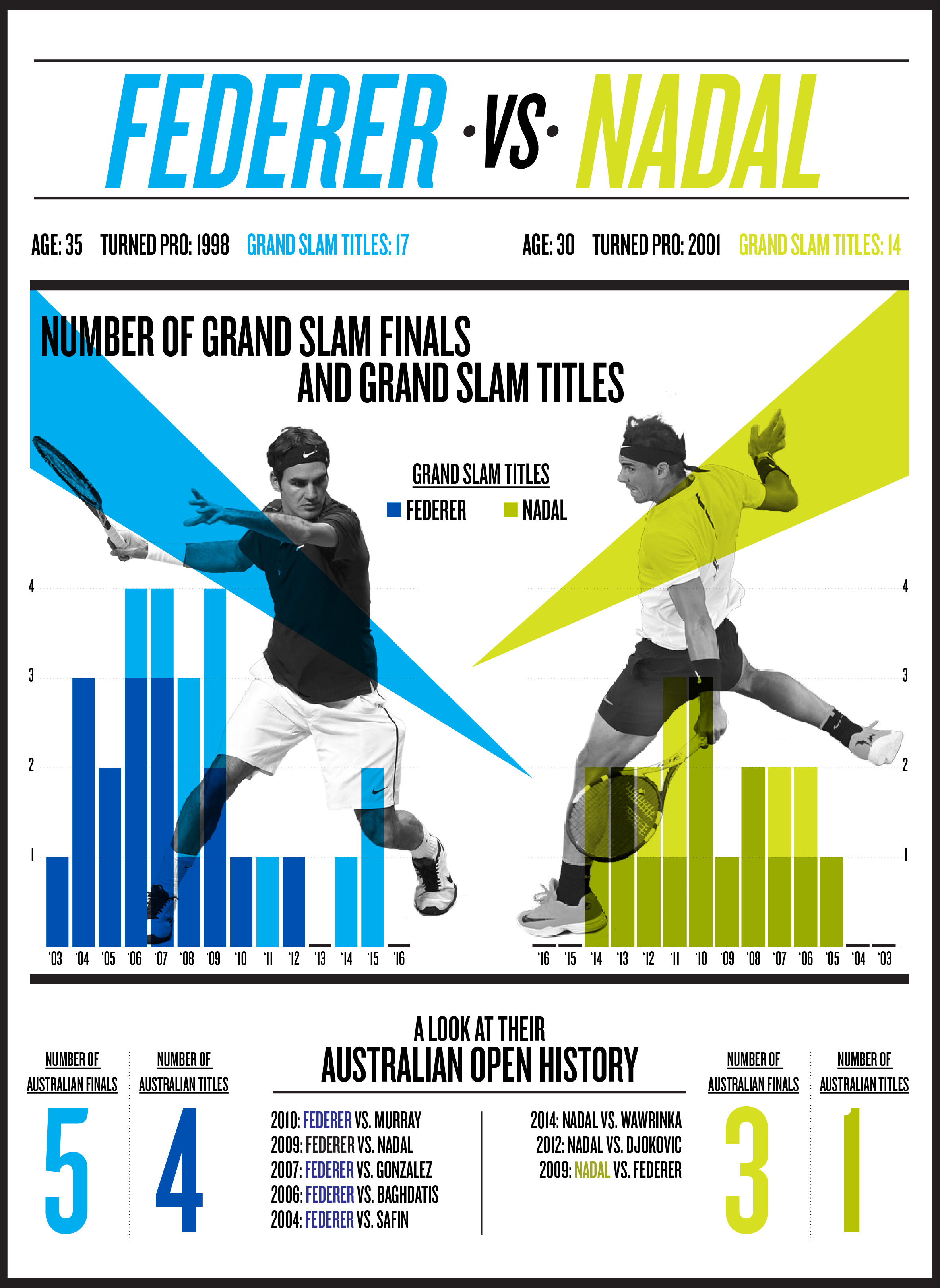 On Nadal, my feelings have always been so conflicted. I wanted to hate the Spaniard for years, especially because he's the reason Roger lost 6 grand slam finals. But you really just can't dislike Rafa. His unconventional style of play is fun to watch and is one that makes him exert 100% effort with each stroke. It's remarkable that his body hasn't completely given out on him after the pounding its received since 2001. A big reason it hasn't: his will to win.
At Rafa's peak, 2008-2010, he was unstoppable in the truest sense. He won all 6 of the grand slam finals he played in those years. He's dominated the champions of his era: Djokovic, Murray and yes, even Federer. During his career, he's won 14 grand slam titles in spite of taking extensive injury breaks in 2004, 2006, 2009, 2012 and 2014.
Like Federer, 2016 wasn't the brightest for Nadal. He lost in the first round of the Australian Open, fell in the third round of French Open, missed Wimbledon altogether and lost in the fourth round of the U.S. Open. There was no reason to believe Rafa would make it past the first week of this year's Australian Open. Alas.
If watching Federer is a religious experience, then this rivalry is indefinably spiritual. Mary Carillo said it best: "I think Roger Federer is the most stylish, elegant and gifted tennis player I've ever seen. Roger is all that is right in the tennis world. Rafa Nadal is his perfect rival—powerful, explosive, gritty and gusty." The 2008 5-hour Wimbledon final between the two is the best match in the history of tennis. And not because it was long, but because somehow the two were playing their best tennis in the final hour of the match. In total head-to-head matches, Rafa has dominated Roger 28-11. In grand slams, Rafa has dominated Roger 6-2. It's the point of contention many tennis fans (who aren't me) have for naming Federer the greatest of all time and not the guy who beats him all the time.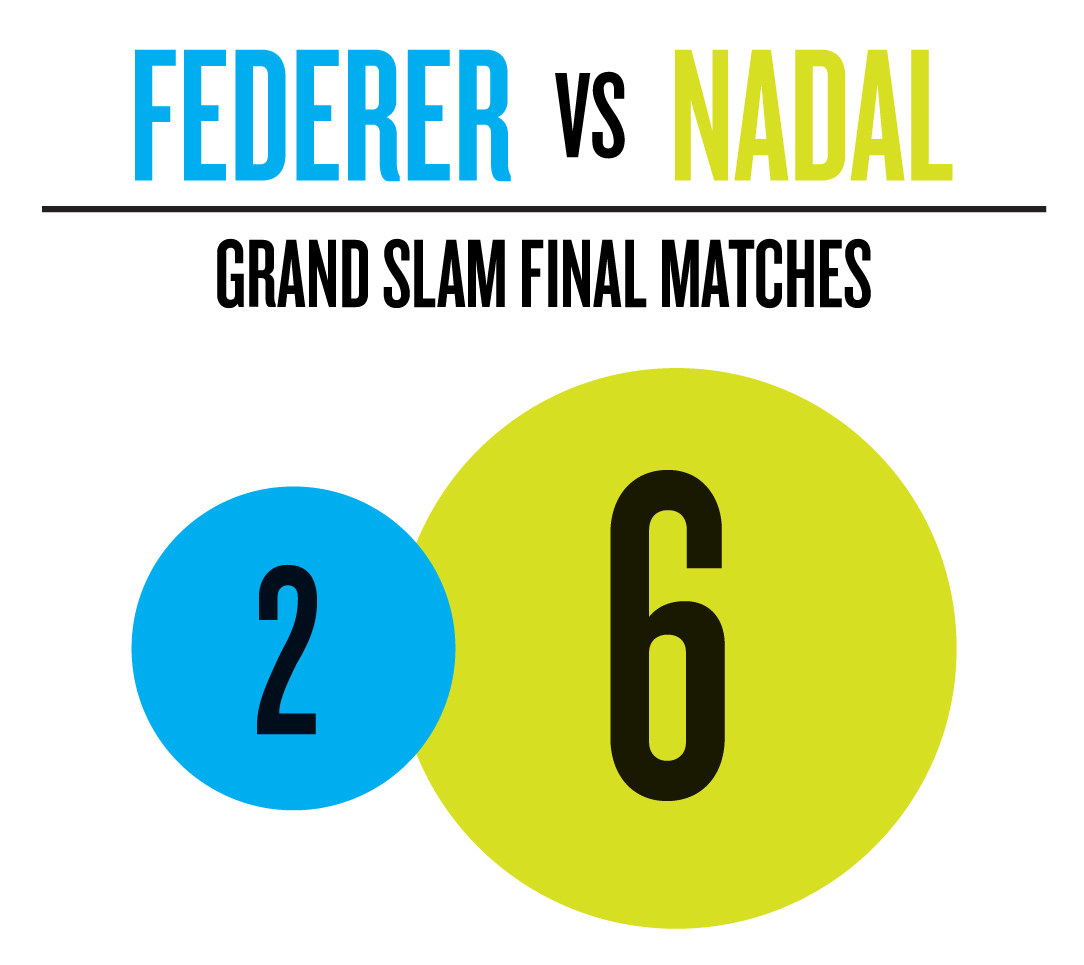 After losing the 2009 Australian Open to Nadal, Federer cried (OK, sobbed) while giving his runner-up speech. The only words he could get out: "God, it's killing me." It was the third straight slam final that he lost to Nadal. I remember watching that (also sobbing) realizing what the loss meant to Roger. This rivalry was the only creature in his career that he couldn't perfectly defy.
So it's pretty remarkable that we get to watch that rivalry eight years later on the same court in a finals match, after both skid the bottom of their careers a year ago. I started calculating the probability of any player making it to a tennis grand slam final, but decided I didn't want to spend my Saturday calculating incorrect math. Bottom line: It's difficult. It would have been crazy if either one of them made the finals in this slam this year. But that they both did it? Insanity.
I want more than anything in the world to watch Federer win another grand slam title. But I find solace in knowing that when I think back to this moment of inspiration, it'll make my heart happy in even the darkest of times.